Astronauts NOGUCHI Soichi
Profile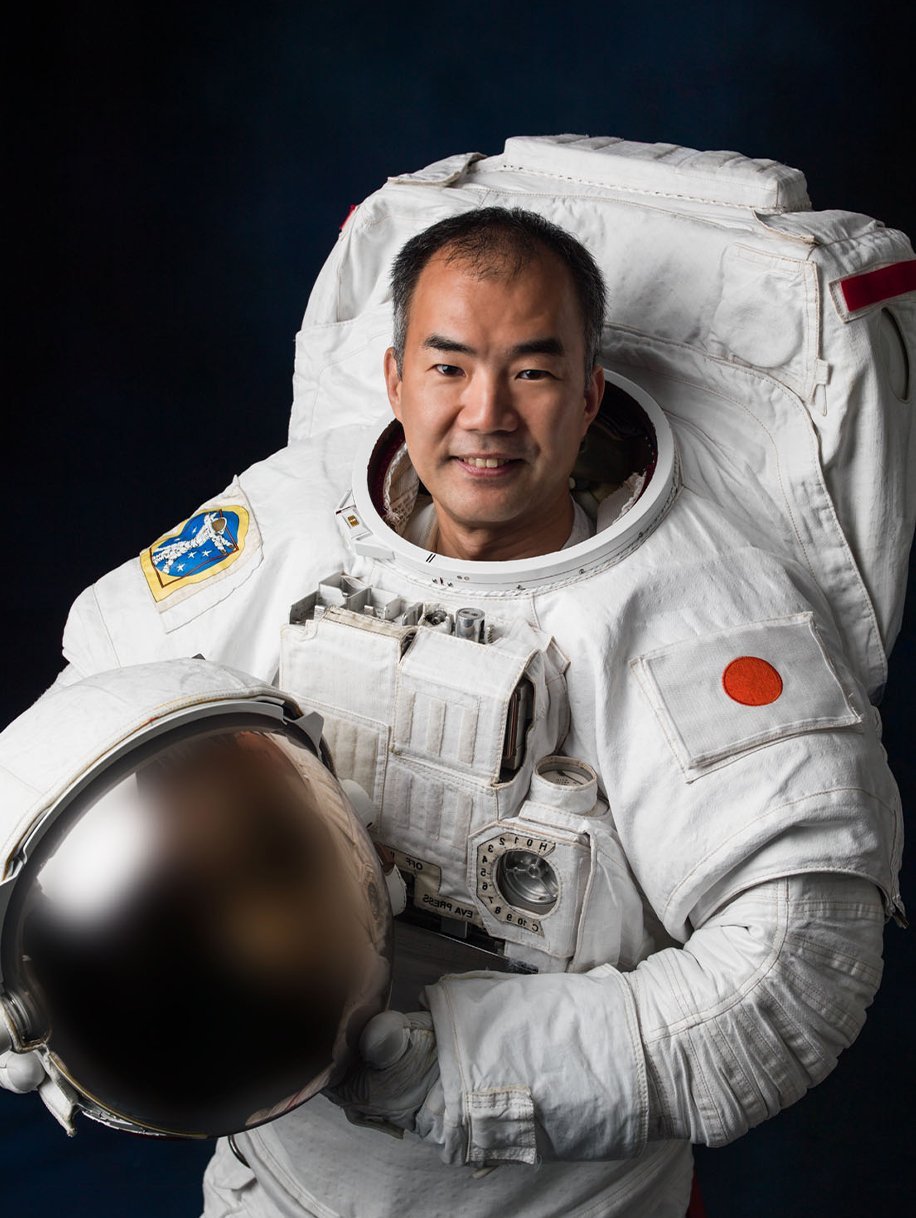 NOGUCHI Soichi Today
Currently on a mission as part of the crew of ISS Expeditions 64 and 65
Previous Missions
Long-duration stay on ISS Expeditions 22 and 23 (December, 2009-June, 2010)

ISS long-duration mission (Mid-November, 2020-present)
Social Media
Background
Dr. NOGUCHI Soichi (Ph.D.) was born in 1965 in Kanagawa. In 2005, he participated in an International Space Station (ISS) assembly mission aboard the Space Shuttle Discovery, and acted as leader of three Extravehicular Activities. In 2009, he flew as the first Japanese left-seater on the Soyuz spacecraft. As a Flight Engineer on ISS Expeditions 22 and 23, he spent about five and a half months aboard the ISS, carrying out tasks such as mounting the Small Fine Arm of the robotic arm of Kibo and conducting experiments. He is currently aboard the ISS as a resident crew member, having arrived via the first operational Crew Dragon space capsule (Crew-1).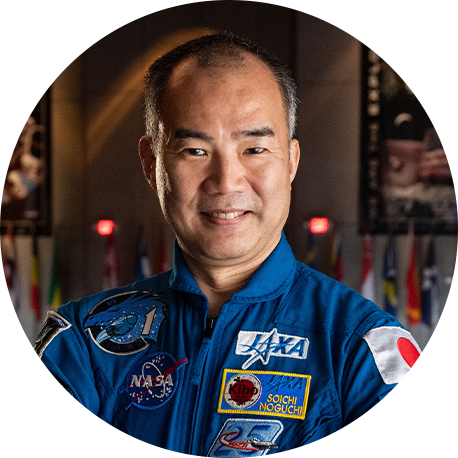 NOGUCHI Soichi
1965
Born in Yokohama, Kanagawa, Japan.
1991
Completed master's degree in Aeronautical Engineering at the University of Tokyo. In 2020, completed Doctor of Philosophy in Advanced Interdisciplinary Studies, also at the University of Tokyo.
1991
Joined Ishikawajima-Harima Heavy Industries Co., Ltd.'s Aero-Engine and Space Operations Business Division, overseeing the planning and performance testing of jet engines.
May, 1996
Selected as an astronaut candidate by the National Space Development Agency of Japan (NASDA, currently Japan Aerospace Exploration Agency). Joined NASDA in June. Joined NASA's 16th astronaut training program, beginning in August.
April, 1998
Completed two years of Astronaut Candidate training at NASA's Johnson Space Center (JSC), and was qualified for flight assignments aboard the space shuttle as a Mission Specialist by NASA. Between July and August, completed basic training for manned space systems at the Gagarin Cosmonaut Training Center (GCTC) in Russia. Following this, in addition to advanced Mission Specialist training at NASA at JSC, also worked on development tests for Kibo, the Japanese Experiment Module (JEM).
April, 2001
Assigned as a crew member on the STS-114 (LF1) mission.
July, 2005
Participated in the Space Shuttle Discovery mission STS-114, the Return to Flight mission during which the Space Shuttle docked with the ISS, and new procedures for flight safety, the Space Shuttle's orbiter inspection and repair techniques were tested and evaluated. In addition to filming the external fuel tanks at launch to monitor the safety of the Space Shuttle, led three Extravehicular Activities (EVAs) to demonstrate in-flight repair techniques on the Shuttle's Thermal Protection System (TPS) tiles in orbit, replace a failed Control Moment Gyro (CMG) with a new CMG, and install External Stowage Platform-2 (ESP-2). Accumulated a total of 20 hours and five minutes of spacewalk time across the three EVAs.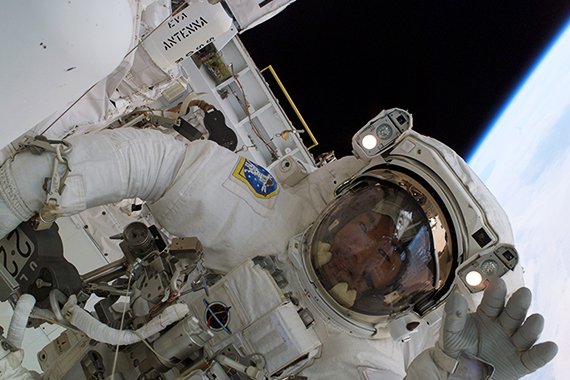 February, 2007
Assigned as a back-up crew member for ISS Expedition 18.
May, 2008
Assigned as an ISS Expedition 20 crew member.
November, 2008
Assigned to ISS Expeditions 22 and 23.
December, 2009-June, 2010
Departed on the Soyuz TMA-17 (21S) as the first Japanese left-seater for the Soyuz spacecraft from the Baikonur Cosmodrome in Kazakhstan. At the ISS on Expeditions 22 and 23, logged a total of 163 days, five hours and 33 minutes in space, including flight time between the ground and the ISS.
During this stay, fellow JAXA astronaut Naoko Yamazaki arrived at the ISS on the STS-131 (19A) mission, marking the first time that two Japanese astronauts worked together in space at the same time.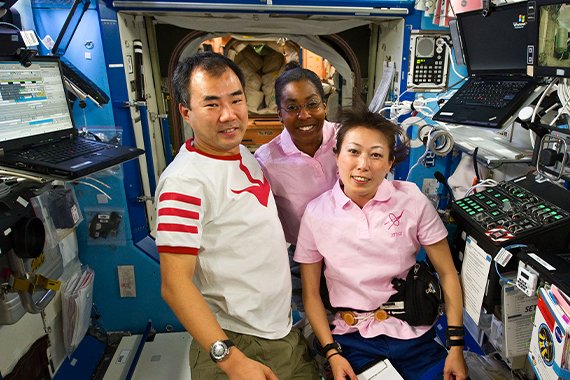 August, 2012
Assigned as Chief of the JAXA Astronaut Group.
September, 2014-September, 2016
Elected as President of the Association of Space Explorers (ASE).
March, 2016
Stepped down as Chief of the JAXA Astronaut Group.
September, 2016
Stepped down as President of the Association of Space Explorers (ASE), continuing as the standing President of the Asian region.
November, 2017
Assigned as a flight engineer for ISS Expeditions 62 and 63 (at the time).
July, 2019
Began training to fly aboard a United States Crew Vehicle (USCV) to the ISS.
March, 2020
Completed Doctor of Philosophy with the Department of Advanced Interdisciplinary Studies at the Graduate School of Engineering, University of Tokyo.
November, 2020
Departed aboard the Crew Dragon as part of SpaceX Crew-1.
Unless specified otherwise, rights to all images belong to ©JAXA