About Us
Message from the Director General
Effective April 1, 2020, I have been assigned as JAXA Vice President and Director General for Human Spaceflight Technology Directorate. I am also in charge of Space Exploration Center and Space Exploration Innovation Hub Center at JAXA. Looking back on my career, until seven years ago, I was working for Human Spaceflight Technology Directorate and then experienced several other areas at JAXA, namely the strategic planning division, space science and space exploration. With my new role, I am thrilled to boost up Human Space Exploration toward the future.
Human Spaceflight Technology Directorate is engaged in expanding human activity areas, promoting full-scale utilization of the unique space environment mainly through the operation and utilization of the International Space Station (ISS) and returning benefits to humanity and activities on Earth.
Japan's human spaceflight activities, which started in the 1980s, have been challenging, with various efforts to acquire new human spaceflight technology, and to create utilization outcomes, that are different from rockets and satellite technologies. Those newly obtained technologies are not limited to each technical field, but also to the establishment of methods such as system engineering and safety and mission assurance. These have been applied to many fields beyond rockets and satellites. Human spaceflight activities have greatly contributed to the society as a pioneer of research and development.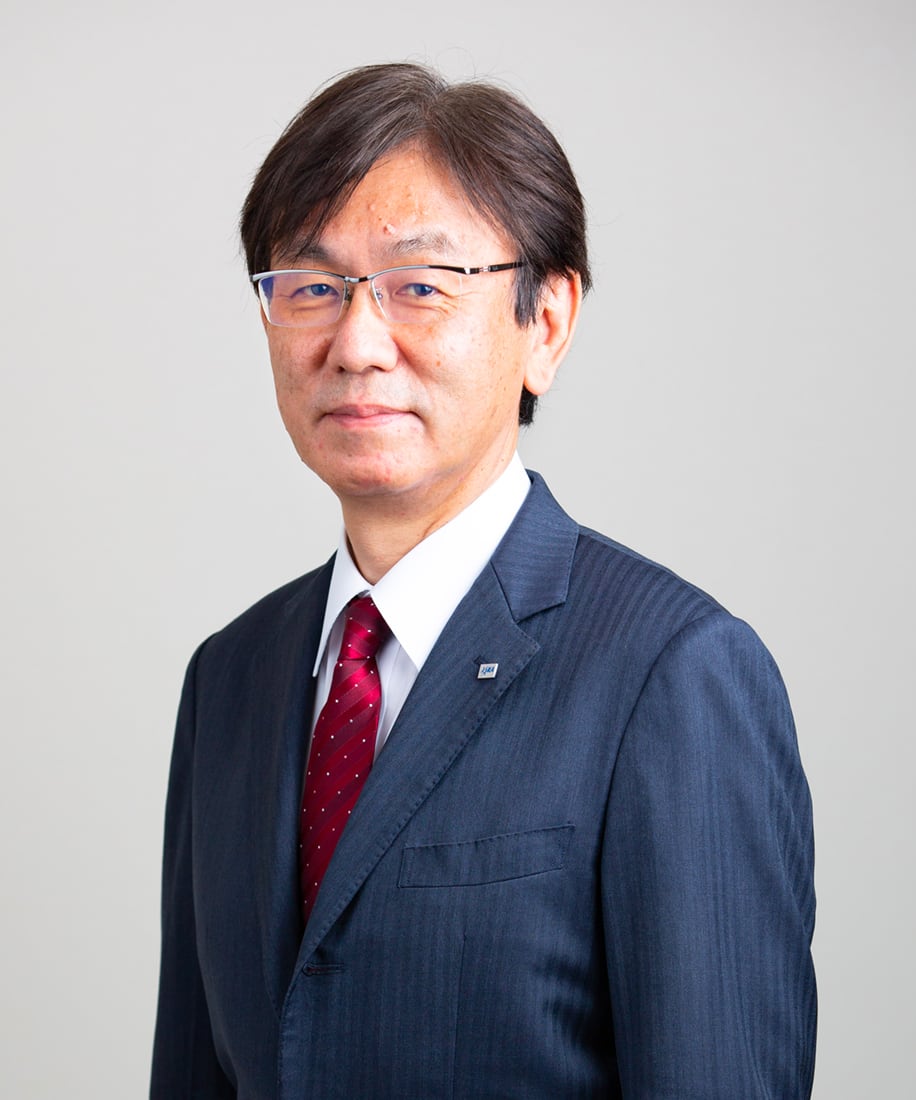 After the on-orbit operation of the ISS that started in the 2000s, the assembly of the "Kibo" has completed, followed by the first successful "KOUNOTORI" flight in 2009. Since then, for the past 10 years, the "Kibo" has continuously been operational, 24 hours a day, 365 days a year, overcoming the various international tensions and natural disasters. Furthermore, as a permanent experimental facility in low earth orbit, JAXA took the pioneering role to encourage the participation of, not only the academic circles but also various players such as industry, private venture companies, students, and have also provided space utilization opportunities to many countries other than the advanced countries in space activities which has become a commonplace throughout the globe today.
In addition, the Japanese astronauts are performing tremendous jobs on the ISS. Thanks to their outstanding efforts with our ground folks, I am proud to acknowledge that Japan has become to play an instrumental role in human spaceflight in the international regime. As a result, the United States has invited Japan to join the international lunar exploration program as one of their major partners.
While the world suffers under COVID-19, I would like to bring every effort to lead the agency to promote R&D as a pioneer as well as carrying out important tasks, as outlined below. I hope that such efforts will lead to improving the current situation across the globe and becoming a steppingstone for a better future.
Continue reliable operations of the ISS, the first human outpost ever built in outer space. Especially to work towards a successful HTV9 logistics mission, which is critical for the ISS operation, and also accomplish the safe flight of Japanese astronauts on a new spacecraft.
Creation of utilization results and deployment of acquired technologies through collaboration with international partners, industry and academia. Carrying out various experiments, based on international cooperation and strategies, through the dual utilization concept of the Space Exploration Innovation Hub, as well as the collaboration with the scientific community. And, sharing the achievements widely, not limited to human spaceflight activities but also with the terrestrial society.
Developing visions and scenarios for future on-orbit human spaceflight activities and the Moon to Mars international space exploration. Presenting a vision for the next 20 years as an experienced expert and proposing scenarios to enable Japan's Basic Plan on Space Policy that covers the basic plan for the next 10 years.
We will contribute to the human well-being and prosperity by pursuing the above efforts. I appreciate your understanding of our human spaceflight activities and I do look forward to your continued support and cooperation.
SASAKI hiroshi
JAXA Vice President and Director General for Human Spaceflight Technology Directorate
Organization chart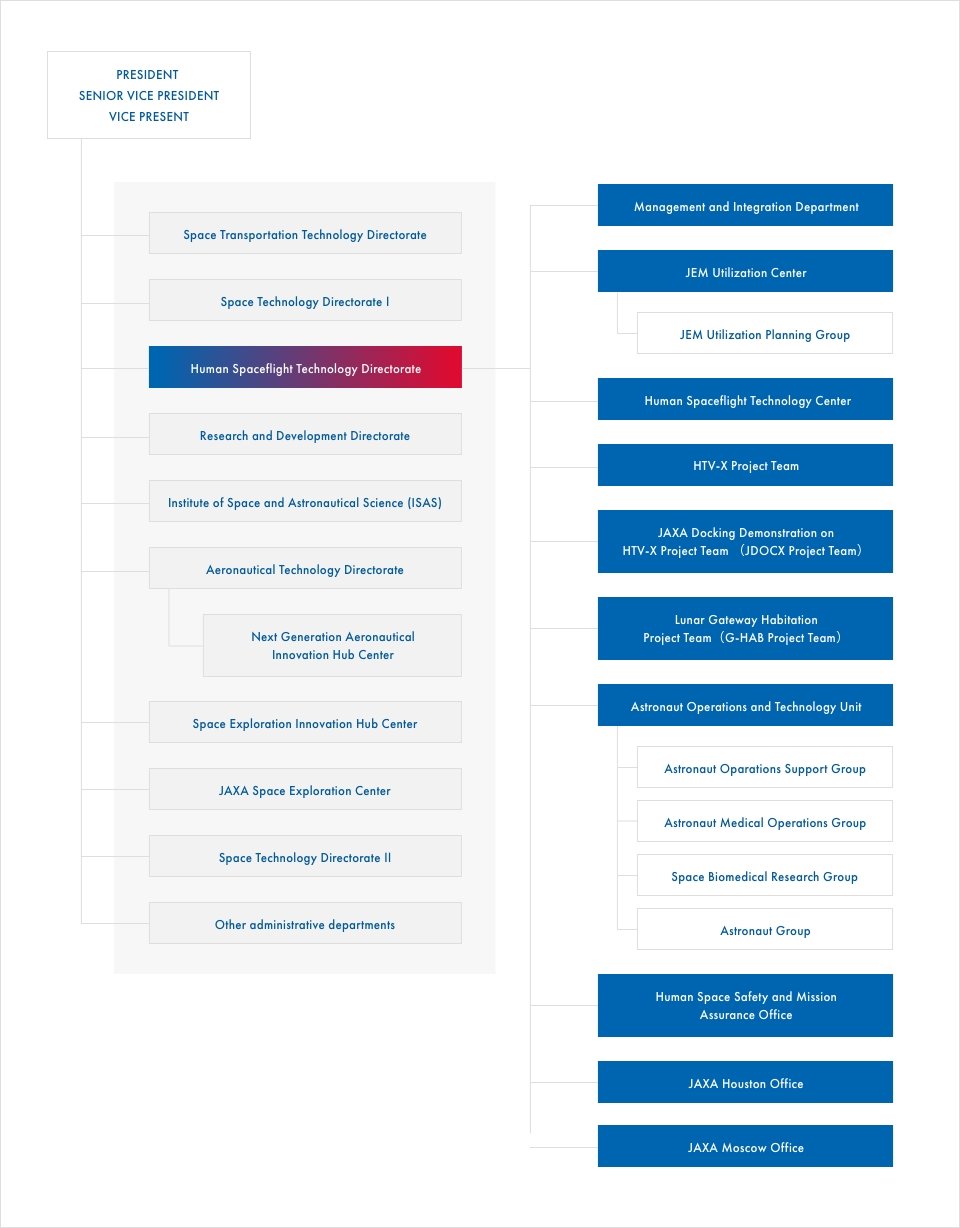 Unless specified otherwise, rights to all images belong to ©JAXA