【Forthcoming Event】The 4th Kibo Robot Programming Challenge (Kibo-RPC) Final Round
2023.10.05
【Forthcoming Event】The 4th Kibo Robot Programming Challenge (Kibo-RPC) Final Round
Kibo Utilization Office for Asia (KUOA)
Experiment at Kibo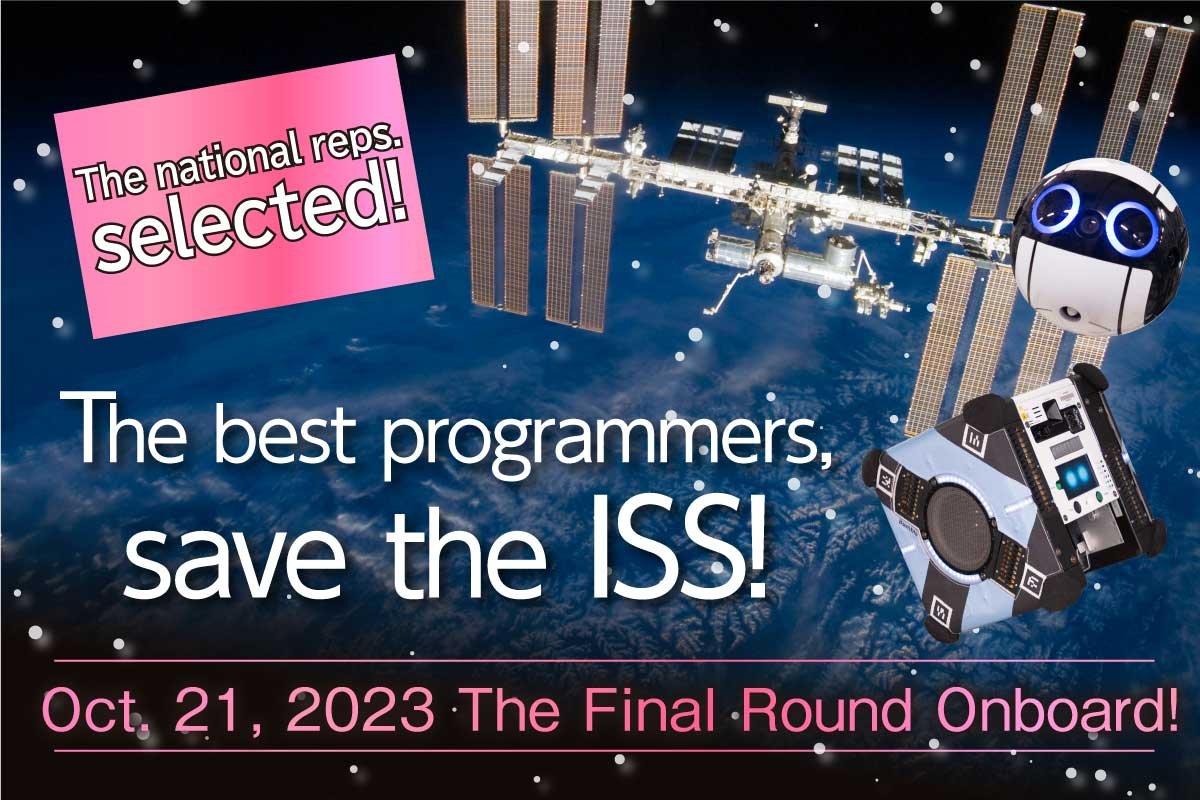 JAXA will hold 4th Kibo Robot Programming Challenge (Kibo-RPC)*1 the Final Round on board on October 21, 2023. It will broadcast on YouTube.
Summary
Date
Saturday, October 21, 2023 (13:00-14:30 JST)
Game Scenario
The air leak caused by the space debris impact was repaired by a talented student programmer, and peace returned to the ISS. However, in 2023, an alert was confirmed from Kibo's control unit that ammonia, which is used as a refrigerant for the external control system, was suspected to have leaked into the ISS. The number of leakage points increased randomly over time due to increased pressure in the coolant piping. Repair the leakage points by laser irradiation of Astrobee!
The Final Round
In the Final Round, 10 teams from Asia Pacific Regions compete for their skills and strategies by developing and installing the program to the real Astrobee on board to fly autonomously. Which team will wear the crown?!
Table 1 List of Teams participating in Final Round (in alphabetical order)
| | |
| --- | --- |
| Country/Region | Team Name |
| Australia | Dream Rover |
| Bangladesh | Team Paragon |
| Japan | Eager Hoper |
| Malaysia | Zetsubo |
| Singapore | SST 1 |
| Taiwan | Flying Unicorns |
| Thailand | Galactic4 |
| USA | Team Salcedo |
| UNOOSA | ORION |
*1 Kibo-RPC
Kibo-RPC is a collaboration of JAXA and NASA based on Japan-U.S. cooperation through the Japan-U.S. Open Platform Partnership Program (JP-US OP3) to promote Kibo utilization in the Asia-Pacific region and to contribute to the SDGs (human resource development). Through these activities, the program provides educational opportunities for students in the area to learn about robot operation and computer programming in space.
Related Links
Unless specified otherwise, rights to all images belong to ©JAXA