Report of the Space Frontier Working Group (SFWG) at the 27th Asia-Pacific Regional Space Agency Meeting (APRSAF)
2021.12.15
Report of the Space Frontier Working Group (SFWG) at the 27th Asia-Pacific Regional Space Agency Meeting (APRSAF)
Kibo Utilization Office for Asia (KUOA)
Experiment at Kibo

Overview
Dates
Tuesday, November 30 and Wednesday, December 1, 2021
Location
Online
Number of participating institutions
53 institutions from 20 countries/regions
Number of participants
129
The 27th Asia-Pacific Regional Space Agency Meeting (APRSAF-27) was held online from November 29 to December 3, 2021 due to the global outbreak of a new coronavirus. During the session, the Space Frontier Working Group (SFWG), which is one of the APRSAF's five subcommittees and is focused on space environment utilization and exploration, met on November 30 and December 1. The SFWG was co-chaired by Dr. Doan Minh Chung of the Institute of Space Technology, Vietnam Academy of Science and Technology (VAST-STI) and Ms. Shiho Ogawa, Director of JEM Utilization Center, JAXA, and was attended by 129 participants from 53 organizations from 20 countries and regions.
In the plenary session of APRSAF-27, Dr. Doan Minh Chung reported on the activities of SFWG, and explained that the Philippine Space Agency joined Kibo-ABC as a new member. He added that Kibo utilization is becoming more active in Asian countries. He also talked about Kibo utilization achievements and future utilization activities, including a protein crystal experiment in Thailand, a radiation measurement experiment in Malaysia, the 3rd Asian Seeds 2022-21 (AHiS) project as a life science experiment theme, a small satellite release as a Kibo utilization activity, and a multifaceted approach to space exploration as an international activity. Kibo's utilization achievements and future utilization activities were also mentioned.
Overview of SFWG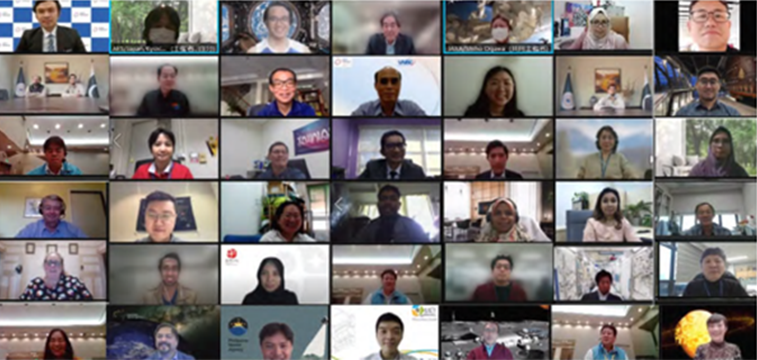 The SFWG first explained how the Space Environment Utilization Subcommittee (SEUWG) was reorganized and is now a part of the Space Frontier Subcommittee (SFWG). After that, country reports from 13 countries and regions (Australia, Bangladesh, Indonesia, Japan, Malaysia, Nepal, New Zealand, Philippines, Singapore, Thailand, Taiwan, UAE, and Vietnam) were shared in three separate presentations, with sessions between each one. The sessions included "Life Science Space Experiment," "Kibo Utilization Opportunities," and "International Space Exploration." These sessions were followed by active discussions.
In the session on "Life Science Experiments in Space," presentations were made on the AHiS project, which conducted experiments in space this year, and also included sharing the results of ground control experiments conducted by JAXA and efforts to conduct plant cultivation experiments on the ISS. The operations team also explained about preparations and matters to be addressed during operations, and introduced how experiments on Kibo will be conducted through preparations. Other presentations included efforts to cultivate a variety of plants using bag culture technology and a joint proposal from Thailand and Taiwan on the possibility of using Kibo.
In the session on "Kibo Utilization Activities," actions using satellites such as J-SSOD, i-SEEP, and KiboCUBE, which utilize the ISS, were introduced as technical demonstration platform activities for lunar and Mars exploration. Of special note, the next scheduled launches of satellites from the Philippines, UAE, and Indonesia were introduced.
In the session on "International Space Exploration," the development status of lunar and Mars exploration was introduced, including lunar rovers, landers, lunar orbiters, life support systems, and other approaches taken by each country, as well as prospects for future lunar and Mars exploration.
The SFWG encouraged many young researchers, engineers, and youth to participate in Kibo-ABC activities such as the Kibo Robot Programming Challenge (Kibo-RPC) and AHiS, which led to the development of human resources in the region. Recognizing the increase in the use of Kibo and the growing expectations for its use in these regions, we can expect to continue to contribute to the development of science and technology and the achievement of the SDGs through the use of Kibo by maximizing the attractiveness of the ISS for continuous human stays. We will also continue to exchange information on our efforts to make international space exploration a place for regional development.
The results of the SFWG were reported by the co-chairs at the plenary session of APRSAF-27 on December 2, 2021.
Related Link
Unless specified otherwise, rights to all images belong to ©JAXA