AHiS News: Space travel seeds for Asian Herb in Space Mission 2 have returned!
2021.08.16
AHiS News: Space travel seeds for Asian Herb in Space Mission 2 have returned!
Kibo Utilization Office for Asia (KUOA)
Experiment at Kibo
Asian Herb in Space (AHiS) was planned as the third project of the
Space Seeds for Asian Future (SSAF)
program. This project consists of two missions. In Mission 1, sweet basil and holy basil are grown on the International Space Station (ISS)/Kibo Module for about one month. After researchers from Japan and Malaysia analyze the collected samples to evaluate the effects of the space environment, students participating in the project are given the results and they also learn about space biology through their own ground experiments. In Mission 2, seeds selected from a range of countries are launched to the ISS/Kibo, stored for several months, and then returned to the ground. Students in the Asia-Pacific region grow these "space travel seeds" and experience space science.
In Mission 2, 22 herb seeds, selected from 11 countries and regions in the Asia-Pacific region, were coordinated by JAXA. The seeds were launched to Kibo on two separate flights as follows, taking into consideration the impact of international transportation by COVID-19. In the SpX-21, the experimental equipment for Mission 1 was also launched.
SpaceX Dragon Spacecraft Operation 21 (SpX-21): Launch on December 7, 2020 (Japan Standard Time)

SpaceX Dragon Spacecraft Operation 22 (SpX-22): Launch on June 4, 2021 (Japan Standard Time)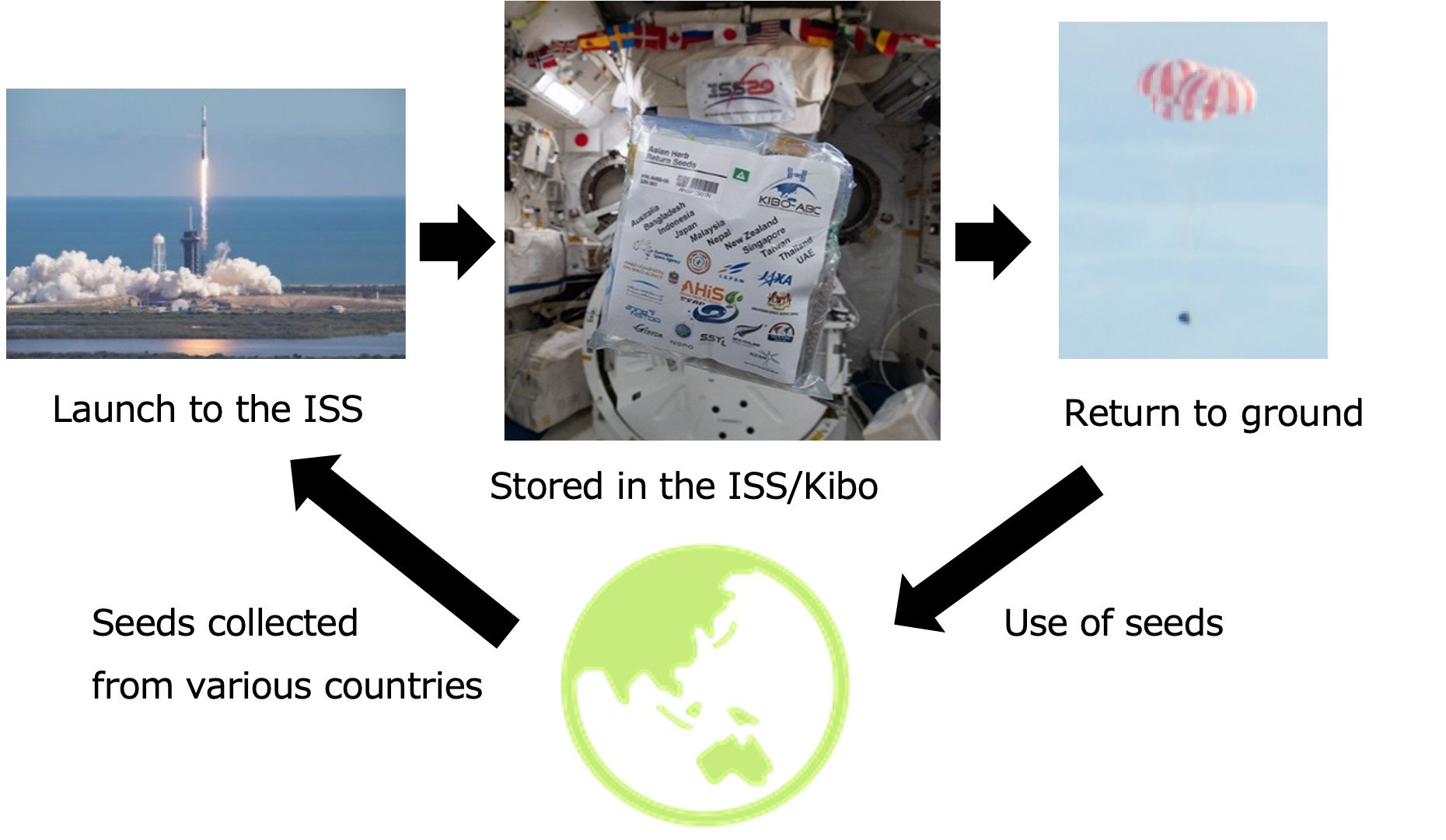 The 22 herb seeds launched in Mission 2 are familiar to children, as they are designated as the national flower or tree of each country or region, and are used in traditional cooking. For Mission 2, a wide variety of seeds were selected based on a broad interpretation of the term "herb" to include plants that contain active ingredients.

After the launch of the seeds, JAXA astronaut Hoshide took photos of the seeds on June 21, 2021 to confirm their storage status on Kibo. Then, on July 10, 2021 (JST) the seeds from Mission 2 and frozen samples from Mission 1 were returned to the ground via the SpX-22.

In the future, JAXA will return the herb seeds to their respective countries and regions. Educational programs will then be implemented in each region, where participating students will be able to grow space travel seeds and experience space science up close. These efforts will contribute to science education, human resource development, and the SDGs for youth in the Asia-Pacific region.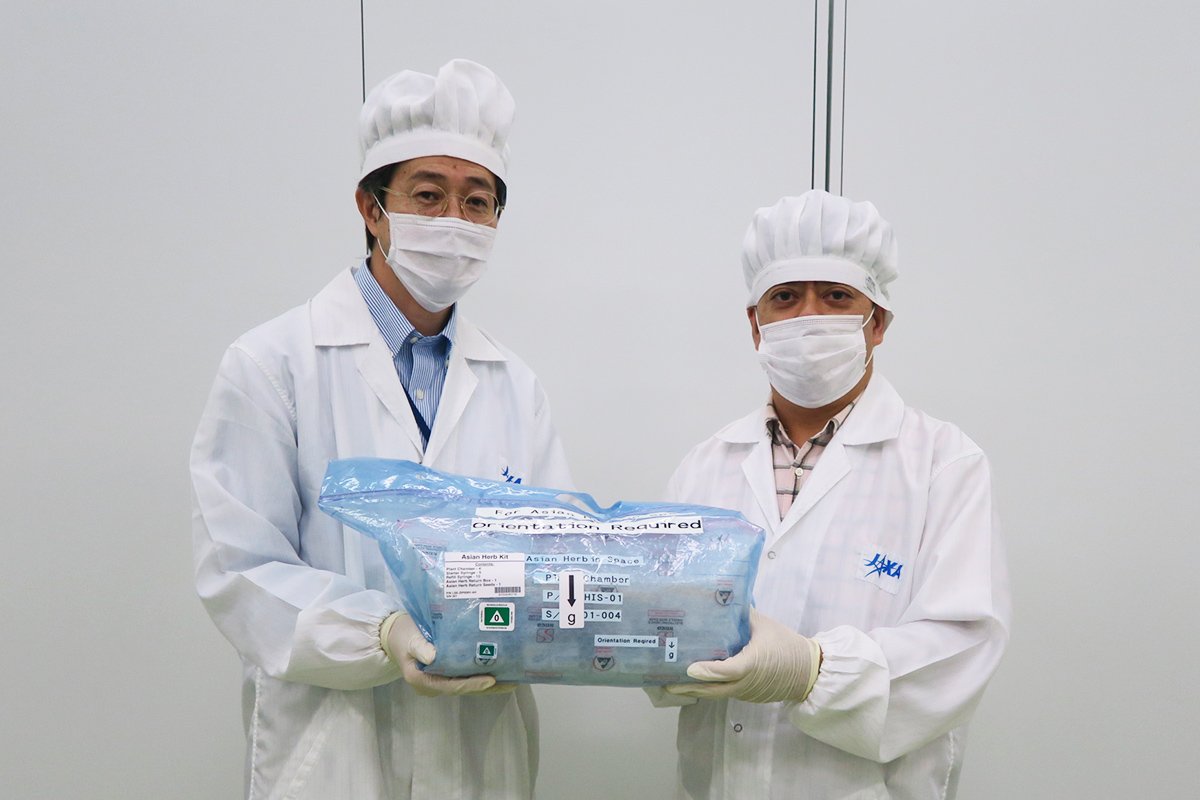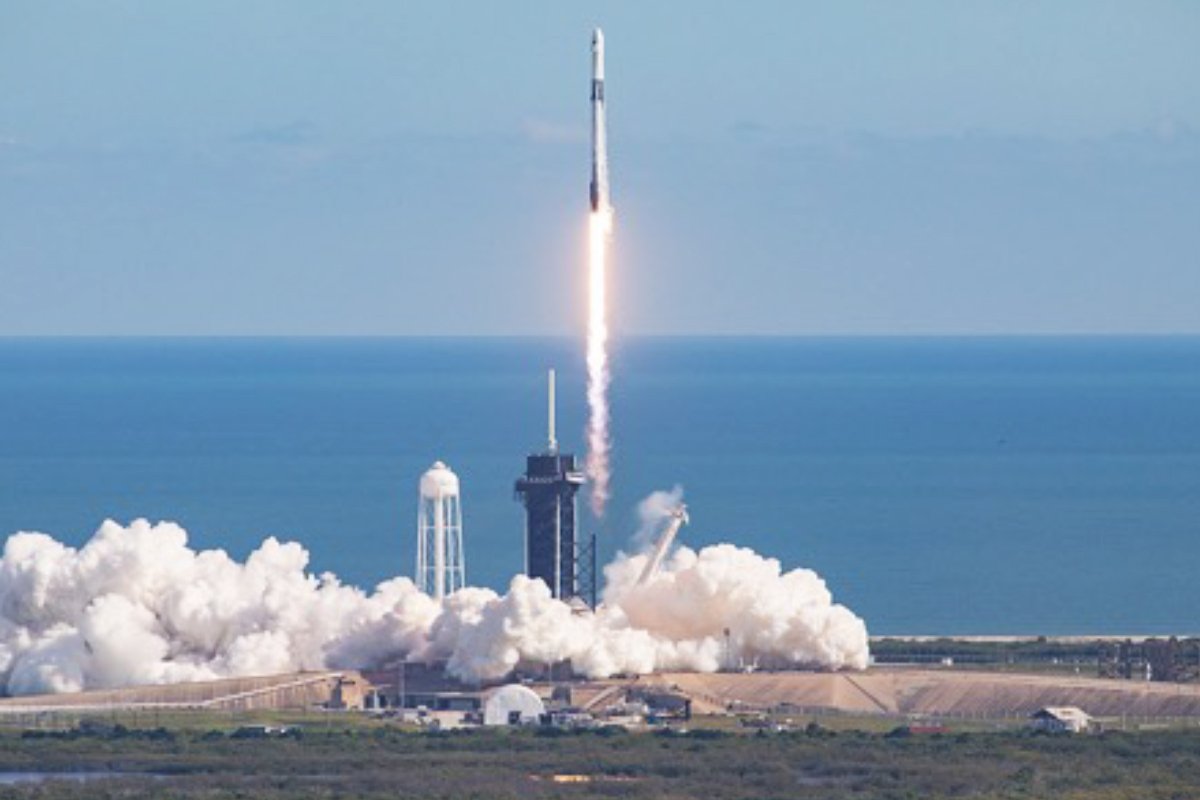 Table 1. List of seeds launched by SpX-21
Scroll to the side to read more.

Country/Region
Common name
Features
Japan
Sweet basil
Thailand
Golden shower tree
National flower
Indonesia
Celery
Onion
New Zealand
Pohutukawa
Australia
Golden wattle
National flower
Taiwan
Red quinoa
Bell (Sweet) pepper
Sunflower
Orchid
United Arab Emirates
Ghaf
Port royal senna
Ben tree
Sweet basil
National tree




Nepal*
Holy basil
Bangladesh
Coriander
Extra
Spearmint
*JAXA obtained the holy basil seeds in Japan for Nepal and launched them to the ISS because the COVID-19 situation in Nepal did not allow transporting the seeds to Japan in time.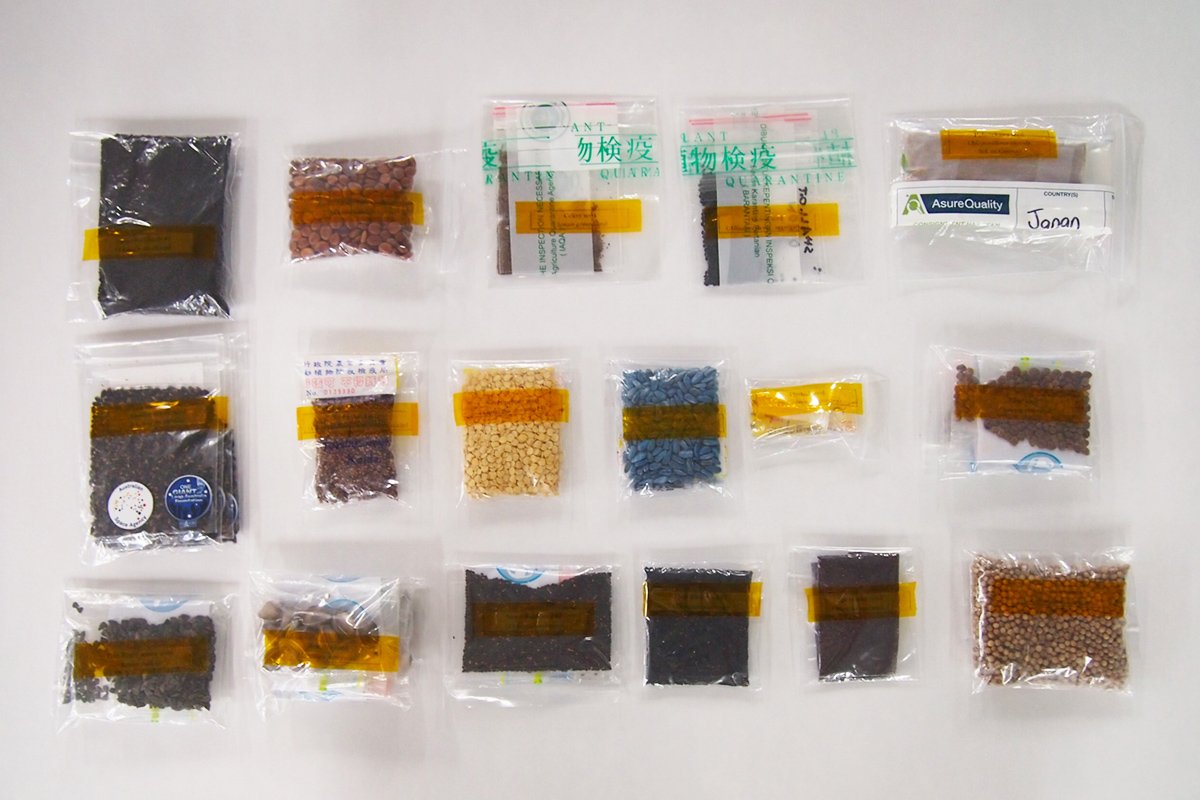 Table 2. List of seeds launched by SpX-22
Scroll to the side to read more.

Country/Region
Common name
Bangladesh
Coriander
Singapore
Coriander
Butterhead lettuce
Vietnam
Impatiens eberhardtii Tard
Codonopsis javanica (Bl.) Hook. F.et Thomas
Diplocyclos palmatus (L.) Jeffrey
Cosmos bipinnatus Cav.
Celosia cristata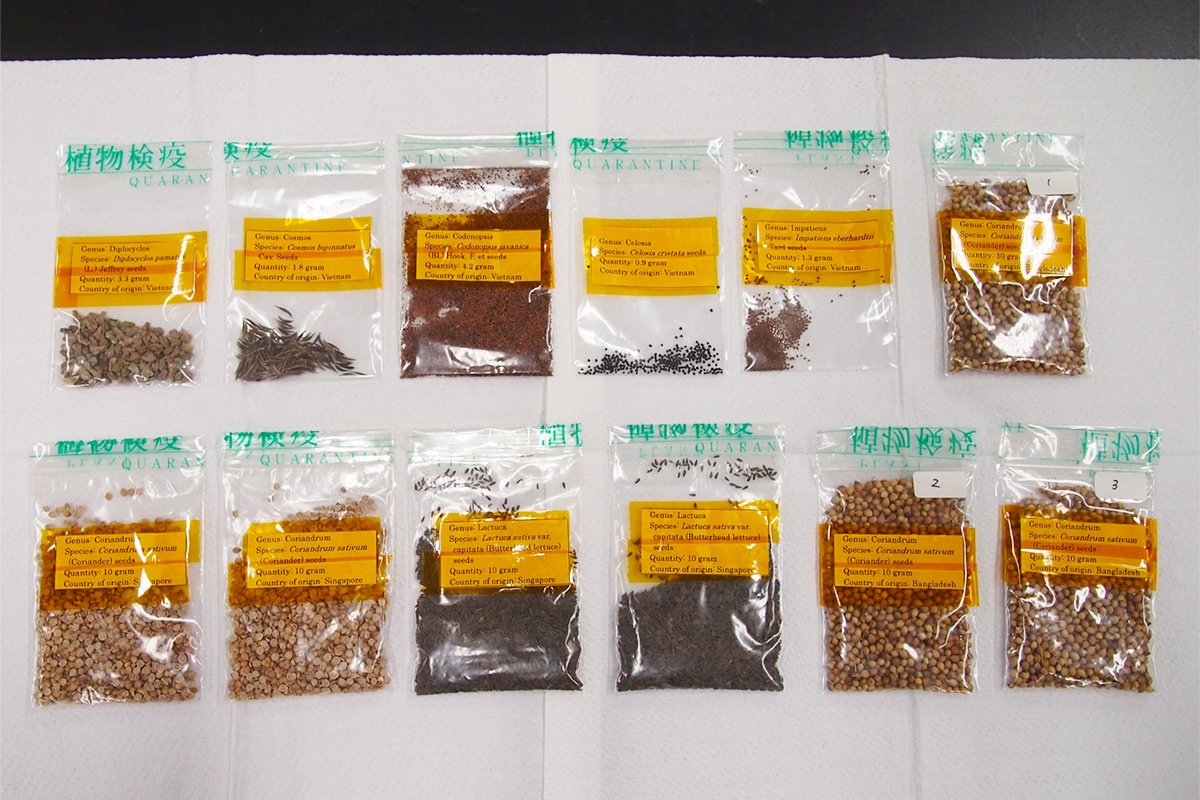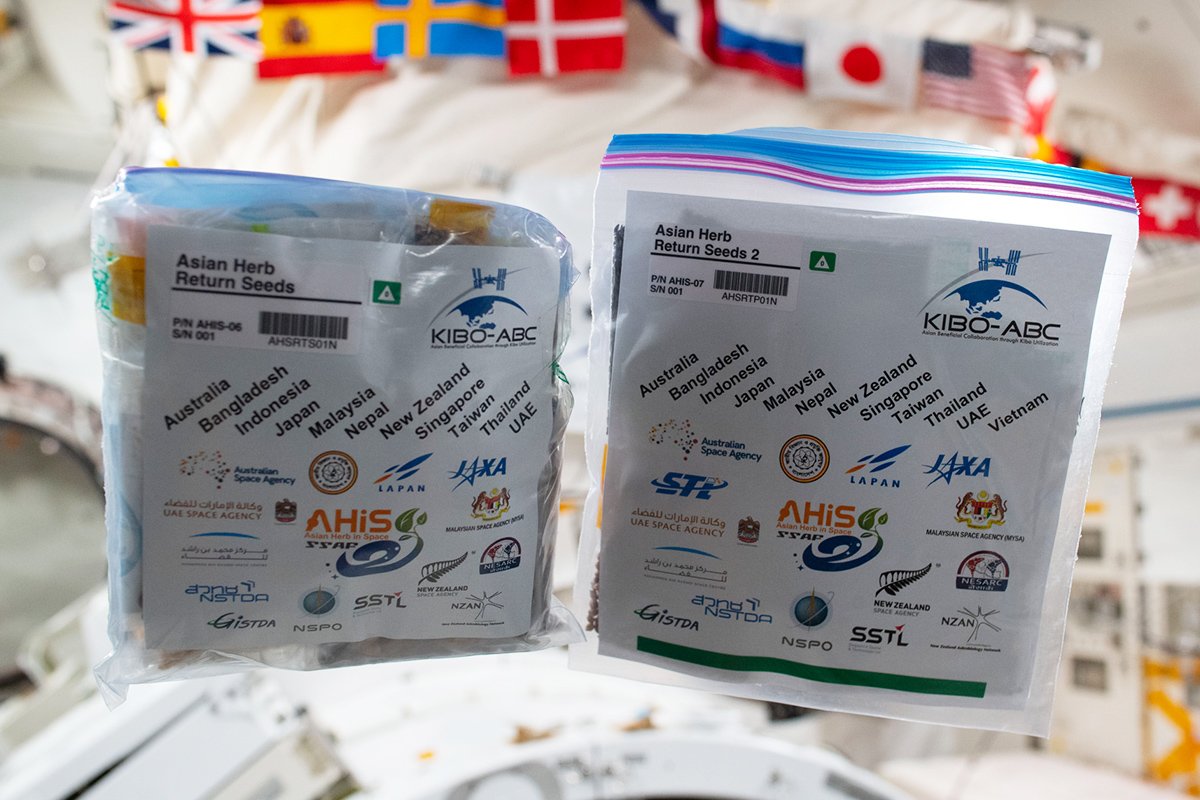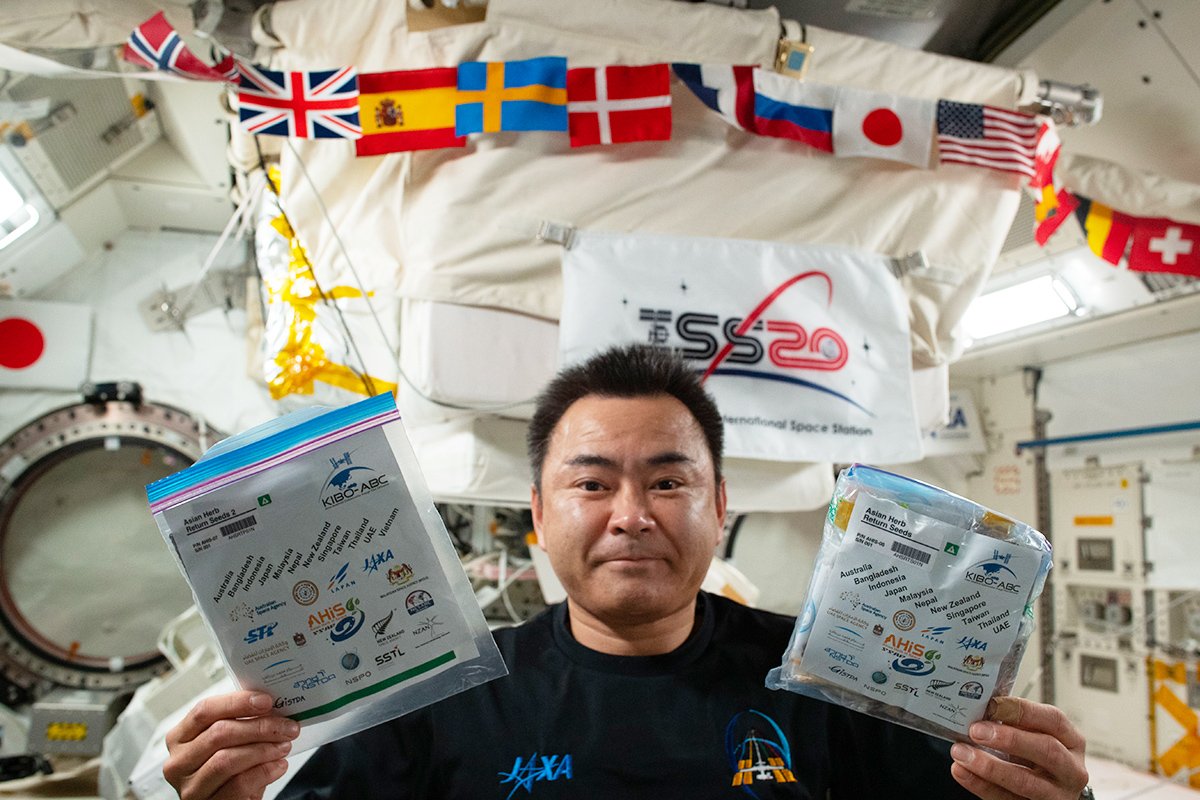 Unless specified otherwise, rights to all images belong to ©JAXA